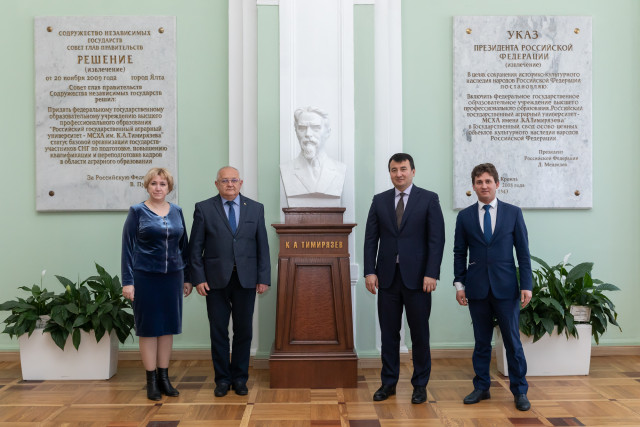 During the working meeting, the parties exchanged views on the development of effective interaction between the RT SAU and specialized organizations of the Republic of Uzbekistan.
Currently, comprehensive cooperation between Russia and Uzbekistan is developing, contacts are strengthening at the level of presidents, governments and parliaments, cultural and humanitarian ties are significantly strengthening. There is active interaction in the field of higher education. Many Uzbek ministries and departments express their intentions to establish direct relationships with leading Russian specialized universities.
At the workshop, the possibilities of implementing the plan of joint practical measures were discussed. Promising tasks were outlined, an agreement was reached on holding a repeat visit of the Uzbek delegation next year with the participation of leading scientists of the friendly state.
https://www.timacad.ru/news/timiriazevskuiu-akademiiu-posetil-ministr-selskogo-khoziaistva-uzbekistana-zh-a-khodzhaev
This year, the main themes of ErasmusDays around the world are digital transformation and environmental management, the theme of events in Timiryazev Academy is defined as "Still Erasmus". As part of the three-day ErasmusDays program, Timiryazev Academy students will learn about the benefits of mobility, the results of Erasmus + projects, and will also be able to communicate with peers who have already completed their studies at a foreign university under the academic mobility program.
Schedule of ErasmusDays:
- October 14 at 9:00 (Moscow time) - interviews with students who have been trained at foreign universities under the Erasmus + academic mobility program.
Students will talk about their experience, the prospects for student exchange in a pandemic and answer the most popular questions. The video will be available in the official communities of the university on social networks.
- October 14 at 11:00 (Moscow time) - start of the digital photo exhibition.
The photo exhibition is dedicated to the stories of participants in the Erasmus + academic mobility program. With the help of a photo, students will share their memories and stories of studying abroad.
- October 14 at 12:00 (Moscow time) - the start of the online quiz.
The quiz will be held in two languages:
• in Russian: https://docs.google.com/forms/d/e/1FAIpQLSfPYf7CVIKe3njEWqWvfqrH4Mn_Il6uLGzlK-4mVJKMVrwJiA/viewform
• in English: https://docs.google.com/forms/d/e/1FAIpQLScpe3SHrOr_DOdr6yKlJg3LgDKkm4Jt3jgCHyZgV558-9l50A/viewform
Participation end time: October 16 at 12:00.
All participants will receive certificates, pleasant prizes await the winners.
- October 15 at 13:00 (Moscow time) - Round table dedicated to the discussion of the training and new programs on digitalization of environmental management within the TAURUS project.
Pre-registration link: https://us02web.zoom.us/meeting/register/tZMkde-orzIuHdScNWMfgpZelp8nMTWaFKMu
After registration, you will receive a confirmation email containing information on entering the conference.